About Our Vineyard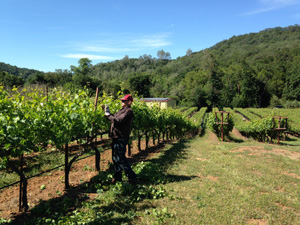 Our vineyard, AlphaWOLF Vineyard & Olive Ranch, is located on 13 acres in the eastern portion of the Napa Valley in a tiny valley called Gordon Valley. We purchased the property in 1999 and planted it in 2000. We tore out an old diseased walnut orchard, tested the soil and planted 3 different rootstocks to accommodate our sandy loam soil on the rockside (front) and the loam soil on the creekside (back). We field budded the grape varietals with clones that grow best in our terroir.
The vineyard is composed of 9 acres of grapes on the valley floor which gently slopes down to a bordering creek and is surrounded by 300 Tuscan varietal olive trees. There are hills encircling the property on all sides creating a unique microclimate most similar to Rutherford/St. Helena.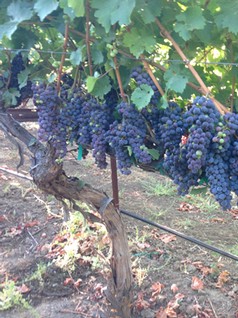 We grow Petit Verdot clone 2 on 110R root stock, Cabernet Franc clone 2 on 1103P root stock, Cabernet Sauvignon clones 7, 4 and 337 on SO4 root stock and Cabernet Sauvignon clone 30 on 110R root stock. It is very important to use the correct root stock and clone to match your soil and climate. We planted our vineyard facing North East to South West to take advantage of the sun exposure on our U-Lyre trellis system. We are able to hang our fruit well into October for peak flavor development at harvest.
We believe it is very important to work with Mother Nature to produce the best quality grapes and olives. Our farming practices are sustainable and we are certified Fish Friendly Farming and Napa Green. We do not use chemicals to control pests. We let Mother Nature use her natural techniques to keep the good and bad in balance. For example, we have 3 barn owl boxes that house families of owls who eat their weight in rodents each night. The bat boxes along our creek provide homes for our bug eating friends. We have the only vineyard in the "world" that has Alaskan Humus in each hole of each plant. Alaskan Humus is one of the best soils in the world because it is an ancient soil which has a large amount of good fungi and bacteria.
Features
Location
Similar Listings
Add Review