Best Aperitifs | Wine Enthusiast
Whether you're enjoying a special-occasion feast at your favorite restaurant or a quiet dinner at home, tucking into a pre-dinner drink is a fun way to kick off a meal.
Aperitifs can stimulate your appetite and prepare your stomach for a delicious plate of food. But what are they, exactly? Below, we explain with some help from drinks pros.
What Is an Aperitif?
Simply put, an aperitif is an alcoholic drink consumed before a meal. It's a French term, pronounced "a-peh-ruh-teef." An aperitif is the same thing as an aperitivo, which is the Italian version.
Aperitifs typically include beverages that have a low alcohol content and are made with herbal ingredients that stimulate your appetite and digestive system, says Timo Torner, founder of Cocktail Society.
An aperitif can include wines, fortified wines, bitters or herbal liqueurs. "They're rather dry and often slightly bitter since sugar tends to reduce the appetite for savory food," says Torner.
What's the Difference Between an Aperitif and a Digestif?
The opposite of an aperitif is a digestif, which is an after-dinner drink. Digestifs are meant aid digestion and improve overall gut health.
How Do You Drink an Aperitif?
These drinks are usually served chilled, over ice, with tonic or soda or mixed into a light cocktail for a refreshing pre-meal experience, adds Debbie Jones, sommelier of Ellen's Wine & Spirits in New York.
"A classic aperitif cocktail would be a Negroni or spritz," she says. "However, an aperitif could be a refreshing light white wine—sparkling or Champagne."
Since the drinks tend to be lower in alcohol by volume (ABV), you might enjoy one or two with hors d'oeuvres before eating, notes Yuval Bar-kokhba, wine director and sommelier at Her Name Was Carmen and La Rubia restaurants in New York. "It's all about relaxing, slowing down and taking a break to socialize and share a moment with friends and family before a meal."
The Best Aperitifs
1. Noilly Prat Extra Dry Vermouth
2. Campari
Campari
Campari offers "sweetness with bitter herbs, bitter orange rinds, cherry, vanilla and spices, like cinnamon," says Torner. It can be enjoyed neat, with soda or mixed into a cocktail like the Negroni.
The Negroni, a classic Campari-based drinks, is "an essential aperitivo hour cocktail," says Marshall Minaya, beverage director at Madame George in New York. Or try a Negroni Sbagliato, which replaces gin with sparkling wine.
Another go-to is an Americano cocktail, with sweet vermouth, Campari and sparkling water, says Will Wyatt, owner and beverage director at Mister Paradise in New York.
$19.99
Total Wine & More
3. Italicus
Italicus is an Italian liqueur infused with bergamot, lavender and yellow rose.
"It has a perfect balance of sweetness and bitterness, with a pleasant floral fragrance, hints of zesty bergamot orange and light honeyed sweetness," says Torner. He adds that it's best served as a spritz with one part Italicus and two parts Prosecco, all served over ice and garnished with olives.
$43.99
Total Wine & More
4. Amaro Averna
Liz Ramirez, beverage manager at Crossroads Hotel in Missouri, says Amaro Averna is her favorite aperitif. This Italian liqueur features a bittersweet taste with hints of orange and licorice.
"Nothing compares to the smooth, yet complex flavor profile, with chocolate being one of the most prominent notes," Ramirez says. She notes that it's a key ingredient in her Espresso Martini—often served as an aperitif.
$42.99
Total Wine & More
5. Suze
Suze is a French aperitif made from the gentian root, which grows in mountainous areas. Minaya calls it his "go-to aperitif" and says Suze's bitter, vegetal flavor pairs well with tonic, but it's also splendid mixed into a white Negroni or sipped neat.
$28.99
Total Wine & More
6. Lillet
The French fortified wine Lillet comes in blanc, rouge and rosé varieties. It's traditionally served over ice with a slice of orange.
"It's a cheerful aperitif with good acidity, loads of orange citrus nuances and herbs," says Bar-kokhba.
Though it's on the sweet side, Torner says it's not overpowering. He enjoys sipping Lillet on the rocks with a lemon peel or with tonic over ice.
$21.47
Total Wine & More
7. Cynar
Cynar (pronounced CHEE-nar) is a bittersweet Italian amaro that's made from artichokes and about a dozen other herbs and plants.
Ronen says it's one of his favorite aperitifs, although  it can also be sipped as a digestif. It's also great in cocktails: Cynar is can replace Campari in a Negroni or the Aperol in an Aperol Spritz. It can also be mixed with tonic or enjoyed by itself.
$31.49
Total Wine & More
8. Pastis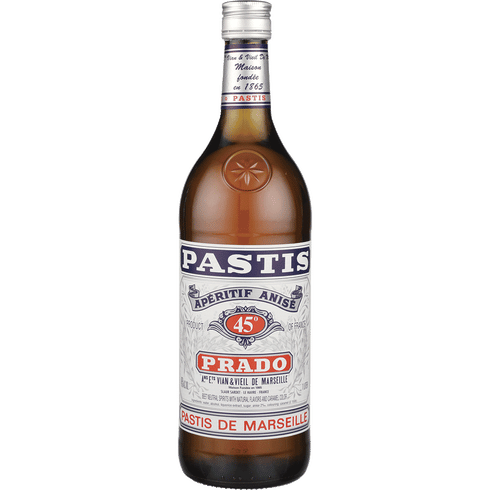 Pastis is an anise-flavored French spirit with a unique, intense taste. It contains a compound that turns cloudy when it encounters water, which Liana Oster, bar director at NoMad London, says adds to the aperitif experience.
"There's something special about adding ice-cold water and watching how the liquid changes in front of your eyes," she says.
$27.99
Total Wine & More
9. Champagne
Popping open a bottle of Champagne or other sparkling wine before a meal instantly makes it a special occasion.
"Champagne is a refreshing aperitif with small bubbles and persistent mousse," says Jones. Cocktails featuring sparkling wine—like an Aperol Spritz or Kir Royale—are other common aperitifs.
$ Varies
Vivino
10. White Wine
If bubbles aren't your thing, try a glass of dry white wine. Bar-kokhba suggests opting for Albariño, Godello or Chablis, which he describes as having high-acidity and being "bone-dry," with hints of citrus and tropical fruits.
"Part of the magic of good white wine is not only its freshness and complex, expressive aromatics, but that it can be enjoyed at any time with or without a meal," he says.
$ Varies
Vivino
We Recommend:
Zenology Handblown Deluxe 10 oz. Coupe Cocktail Glass
Published on December 6, 2022